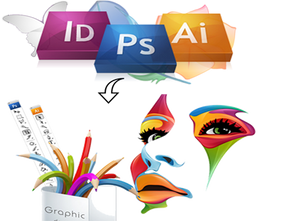 Description
---
Let Us Help You With Your Graphics!
Tell us about your vision and get a custom graphic design quote. Submit Your Graphic Design Request Here. Our in-house graphic specialist will help you create your artwork and provide 3 revisions. 
When submitting the form above, please provide the following.
Your logos, images, and design examples
Detailed description of your design
the item(s) of your interest.
Estimated design time will be provided to you prior to start of your project. Please refer to the following guidlines.
Express Design (1-2 Hours)
Simple layout & Typesetting
Vector-based/hi-res graphics
Custom Design (3-4 Hours)
Layout & Typesetting
Simple photo editing (includes cropping & color adjusting)
Custom Design (5-7 Hours)
Layout & Typesetting
Photo editing (includes cropping, color adjusting, & cloning.)
Creating vector elements
Custom Design (8-11 Hours)
Layout & Typesetting
Photo editing (includes cropping, color adjusting, & cloning.)
15+ photos used (must be provided by customer)
Complex layered design
*Customer must supply as many images, verbiage and vector-based graphics (logo, image, & text) as possible.
CAN WE SAY AMAZING WORK?
Hands down, the best to work with. The process was smooth, and Troy was VERY patient with us. It was our first show and a huge show as well. Troy was able to answer all my questions! He was great. The design work for our booth will be very eye-catching amongst thousands! The prices are reasonable compared to other companies. The significant part is we can use this in the future, which I love! You have a customer for life! Thank you all very much!
For reference, we ordered the 15ft wall, 3 large retractable banners, and a pop-up podium.
Retractable banner purchase
My expectations were exceeded. My retractable banner turned out better than I expected and we received it quickly. I would recommend this company to anyone that is looking for great service.
Great Product, Fantastic Service!
I ordered an 8' pop-up and graphic services just a week before my event. When I called, their customer service explained the process thoroughly and started on my design right away. After a few edits to the graphic, they started production immediately. They did everything necessary to get me the product before my event, including rush shipping. I'm so glad I chose Joy Displays!
Did what was needed
Took my colors and design and made it happen
Design Service Worth Every Penny
I am not a graphic designer myself and don't have access to one. I found a background image I wanted to use on an 8ft. x 8 ft. pop-up display that was only 11" x 17". I had no idea how to turn that into an 8x8 sized image! I sent the design service the image, our logo EPS file, info for our RGB color numbers, and the copy we wanted on the display and they put it together for us and did a fantastic job. I've never done this stuff before, so it was very close to our event when I got in touch with Joy. The gave us really quick turnaround on the design, and sent me a comp that I could email around to the powers that be to get approvals, and that was a big help too. The bosses were really skeptical about purchasing the display, but when they saw the comp they were "maybe we'll try it, go ahead and order it". In real life, our display was perfect and super high impact at the event. Bosses were blown away with how great it was. Wish I could upload a picture to show how great the booth looked.