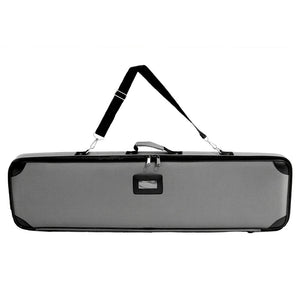 Description
---
Equipped with a shoulder carry strap, this 48" Silver Travel Bag can be used for 48" width Silverstep Retractable Banner Stands and 4ft width EZ Extends.

Size:
Inside Dimensions: 50.75"L x 10"W x 3"H
Outside Dimensions: 51.5"L x 12"W x 4"H
Shipping Dimensions 64"L x 12"W x 4"H

Weight:
7 lbs

Silver case

I purchased this case to store a DUET ACCOLADE projection screen. The screen fits in the case very nicely.
The case is a bit too long for the screen, but I just put a piece of foam at either end of the screen and I'm all set.
UPS had an issue with finding my delivery address. JOY DISPLAYS stayed on top of it until it was delivered.
Nice customer service!!!