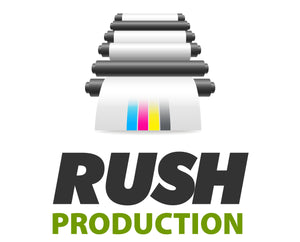 Description
---
Due to production capacity, Rush services is currently unavailable.
Choose this option to expedite production time. Lead time is stated in each product description. We will move your print job ahead in our production queue. This will ensure your job goes to our Rush facility in order to exceed standard production times so you receive your product sooner! 
This Includes:
(1) Rush production fee for 1 item
*Some items may not be available for rush production. Please contact us to ensure the exact time frame for the items you are ordering.
Absolutely Awesome!
Lauren is and has been amazing to work with. I am so appreciative of her help and insight. I would highly recommend Joy Displays. I have used many companies throughout my career and hands down these guys have been the best.
Beautiful Display
Joy Displays created a beautiful back drop for us and accommodated our last minute order. We were in a bind for a display because the vendor we were using could not get the flat wall to us in time for the trade show we needed it for. I did a Google search and found what we needed at Joy Display and called them to confirm they could get it to us in time. The customer service was amazing and they did what they promised and went above and beyond. I wish we could put a pic of our our display here so you could see the rich color print and the quality of the back drop. Thank you Joy Displays - I will definitely be a repeat customer!