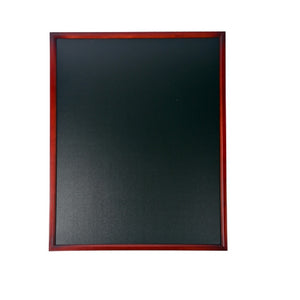 Description
---
Flaunt Your Menu Or Special With Chalkboards Signs
Chalkboards have been around for many years and they've truly managed to withstand the test of time. It is not uncommon to enter a restaurant and spot a chalkboard, which is being utilized to display the establishment's menu or schedule. If you wish to replicate this procedure within your own establishment, you'll want to look no further than our chalkboard menu board. They're affordable, sleek, and can be used time and again to inform your clients of your schedule, menu or new products.

The Biggest Inventory Around
Some chalkboards are designed for indoor use, while others are more than suitable for outdoor displays. The good news is that you've come to the right place. We offer a wide array of chalkboards and have the biggest inventory in the industry. Our 15k square foot warehouse holds our entire inventory of chalkboards, so they're ready to be shipped in your direction within days! In fact, if you make your purchase before 1PM PST, you'll receive complimentary same day shipping.
Whether you're looking for a sidewalk chalkboard or a menu board, you can guarantee our massive portfolio will offer something that suits your needs.
Framed Models

To better accommodate the needs of our clients, we have begun offering framed chalkboards. The 24" by 30" model provides the user with a much bigger writing canvas, yet weighs just 4.5 pounds! The generous 22.5" x 28.5" writing area has plenty of room to create and showcase great designs when it comes to displaying menus, events, chalkboard art, or just simple messages. Perfect for hanging on walls (hardware kit included) or used with one of our easels. Easily communicate any message to your customers. For best results, use it with regular chalk or with our Liquid Chalk Fluorescent Markers! Great for restaurants, bars, shops, and many other businesses! Be sure to place your order as soon as possible! If you do so before 1PM PST, your chalkboard will be shipped on the same day.
Product Specs : 
Overall Size: 24" x 30" x 1"
Writable Area: 22.5" x 28.5"
Weight: 4.5 lbs